FoundHer presents Startup Weekend Hawaiʻi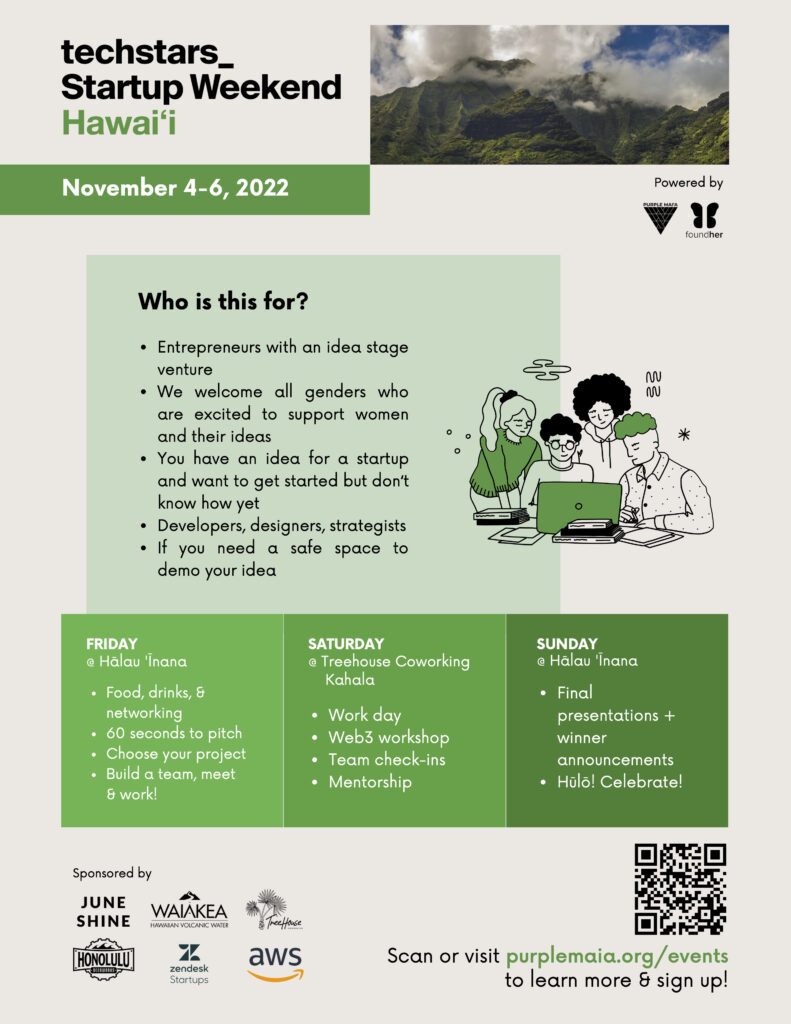 Calling all founders, entrepreneurs, creatives, technologists with an idea on how to better our communities in Hawaiʻi.
Transform a rough idea to maturity in just 54 hours! A 3-day weekend for entrepreneurs to pitch an idea (or join an idea that you are passionate about), find like-minded people, grow your network & learn new skills. Weʻll have workshops by experts in their field and mentors to keep help guide you and speed up progress. On the last day, pitch your startup concept to a panel & the public to get feedback – and maybe give life to your new startup!
Who is this for?
Entrepreneurs with an idea stage venture
While FoundHer is the presenter, this isnʻt open to only women! We welcome all genders who are excited to support women and their ideas
You have an idea for a startup, want to get started but donʻt know how yet.
Both technical and non-technical – whether youʻre a developer, front-end designer, UX/UI or creative in graphics, copywriting, or community organizer. We need you!
This is a safe space to demo your idea
Whatʻs the agenda?
FRIDAY – Hālau ʻĪnana
Dinner and networking
60 seconds to pitch
Choose your project
Build a team, meet & work!
SATURDAY – Treehouse Coworking Kahala
Work day
Team check-ins
Mentorship
Dinner
SUNDAY – Hālau ʻĪnana
Final presentations + winner announcements
Hūlō! Celebrate!